OUR STORY
ABOUT GRUHALAXMI
Gruhalaxmi, a budding construction and property development company in southern India that is committed to building beautiful, exquisite luxury housing, ensuring that people have the opportunity to live their dream in a sought-after location with lifestyle amenities, friendly like-minded neighbours.
At Gruhalaxmi, we believe the great Indian dream of families owning their own home and should never be beyond reach. That the stringent processes in order to deliver projects from concept to completion. Our entire team works seamlessly to bring our customers the best outcome. Gruhalaxmi believes in not just building new homes, but in creating landmarks by combining excellent design, modern style, state-of-the-art technology, eco friendly energy systems and uncompromised materials. We don't merely sell homes, we build dreams.
Keeping our customers in mind and heart, we are able to integrate the best in the world in all aspects of projects and earn their trust and loyalty. Our firm collaborates with professionals from London, Sydney, Newyork, Dubai and Hong Kong from the very conception of each project and all through out the process of its development, thus ensuring that your houses are up-to-date with the latest innovations in design both exterior and interior, security systems and property management.
Our job does not end with us handing over the key to you. We see that as the start of a new relationship - security, housekeeping, landscaping, equipment maintenance, spa and restaurants to name a few aspects of our continuing relationship. And the best part is, our homes are still highly affordable.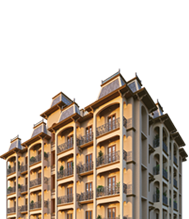 BOOK "Le Pavilion"
Request for a Callback from our representative