NRI & INVESTORS
To facilitate bookings from our customers across the globe, we have our own offices in Saudi Arabia and UK. You can contact our team there for any services regarding real estate purchase with the group.
Saudi Arabia
B108, Al Bawardi Building, Qias Ibn Asim Street, Al Malaz P.O Box 23276 Riyadh 11332 Saudi Arabia
Tel: +966 564 423 989
Email: info@ncrgruhalaxmi.com
UK
Hillside, Blasford Hill, Little Waltham, Chelmsford CM3 3PG, United Kingdom
Phone: +44 744 279 5363
Email: info@ncrgruhalaxmi.com
RBI GUIDELINES
Reserve Bank of India (RBI) Guidelines on NRI Investment in properties in India
PERMISSION FOR PURCHASE OF RESIDENTIAL PROPERTY / COMMERCIAL PROPERTY.
1. NRIs holding Indian passports—No permission required
2. NRIs holding foreign passports—Intimation to RBI via form IPI - 7 within 90 days of purchase of property or final payment of consideration. Funds through NRE/NRO accounts.
SALE OF PROPERTY
1. Property held by NRIs in India can be sold. No permission is required from the Reserve Bank of India.
REPATRIATION OF SALE PROCEEDS
1. Repatriation of proceeds from sale of residential property purchased on or after 26th May 1993 is allowed.
2. The RBI will consider repatriation of the consideration amount remitted in foreign exchange for the acquisition of 2 properties. The sale has to have taken place after 3 years from the date of final purchase deed or from the date of final payment.
3. Application of repatriation (IPI-8) has to be done within 90 days of the sale of the property.
INCOME FROM PROPERTY
1. NRIs can let out immovable property in India. The rental income from the investment has to be credited to the NRO account.
2. Subject to changes from time to time
3. Application of repatriation (IPI-8) has to be done within 90 days of the sale of the property.
HOME LOANS
NRIs can avail financing assistance in the form of housing loans, for purchasing residential properties in India.
The applicant must be an Indian passport holder.
Eligibility Criteria:
Age:
You must be minimum 21 years old. Maximum age limit is 60 years or retirement age (whichever is earlier) at the time of loan maturity.
Residential status:
1. If salaried applicant, you should have been abroad for a minimum period of 1 year.
2. If self-employed applicant, you should have been abroad for a minimum period of 3 years.
Income:
1. For a loan tenure between 11–15 years, minimum qualification to be Diploma / Graduate with minimum 3 years of employment abroad or professional qualification with 1 year of employment abroad.
2. There is a minimum income per annum required depending on the country of residence.

The security for the loan would be the equitable mortgage of the property financed. This is created by the deposit of the original title deeds of the property with the HFI.
Local guarantors will also be required in the case of a few institutions.
Copies of the following documents have to be submitted along with the application for the loan to the institution.
1. Employment contract
2. Latest salary slip
3. Latest work permit
4. Visa stamped on the passport
5. Power of Attorney to a local individual
6. Receipt of payments made for purchase of the property
7. Agreement of Sale
Interest rates and EMIs are subject to change without notice. Check with the financial institutions for prevailing interest rates.
OVERSEAS PAYMENTS
How to make payments from abroad:
Please make the payment in the applicable foreign currency
Credit for the amount received will be given at the rate at which the bank credits the amount to our account.
When you make the payments in the currency applicable, the financial institutions will send us the cheques for direct remittance to our account
To facilitate easy tracking and quick acknowledgements, please contact our offices for details regarding payments in US Dollars, Pounds and Euro.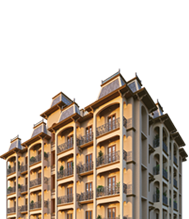 BOOK "Le Pavilion"
Request for a Callback from our representative