DISCLAIMER
The plans and pictures are not drawn to scale and are included for the purpose of identification and guidance only. The elevation and interiors shown are the artist's expression only. This may vary according to the type of furnishing selected by the buyer and actual site regulations of statutory/local authorities. Dimensions and details provided in the brochure are subject to minor alterations/variations without notice and shall be purely at the discretion of the company.
Saleable area is inclusive of some common areas and wall thickness. The saleable area mentioned above is an approximate value and is subject to final survey.
Dimensions and details providedin the accompanying literature are approximate and are subject to alternation without notice.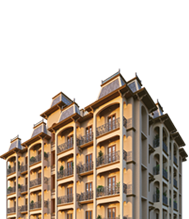 BOOK "Le Pavilion"
Request for a Callback from our representative